This store requires javascript to be enabled for some features to work correctly.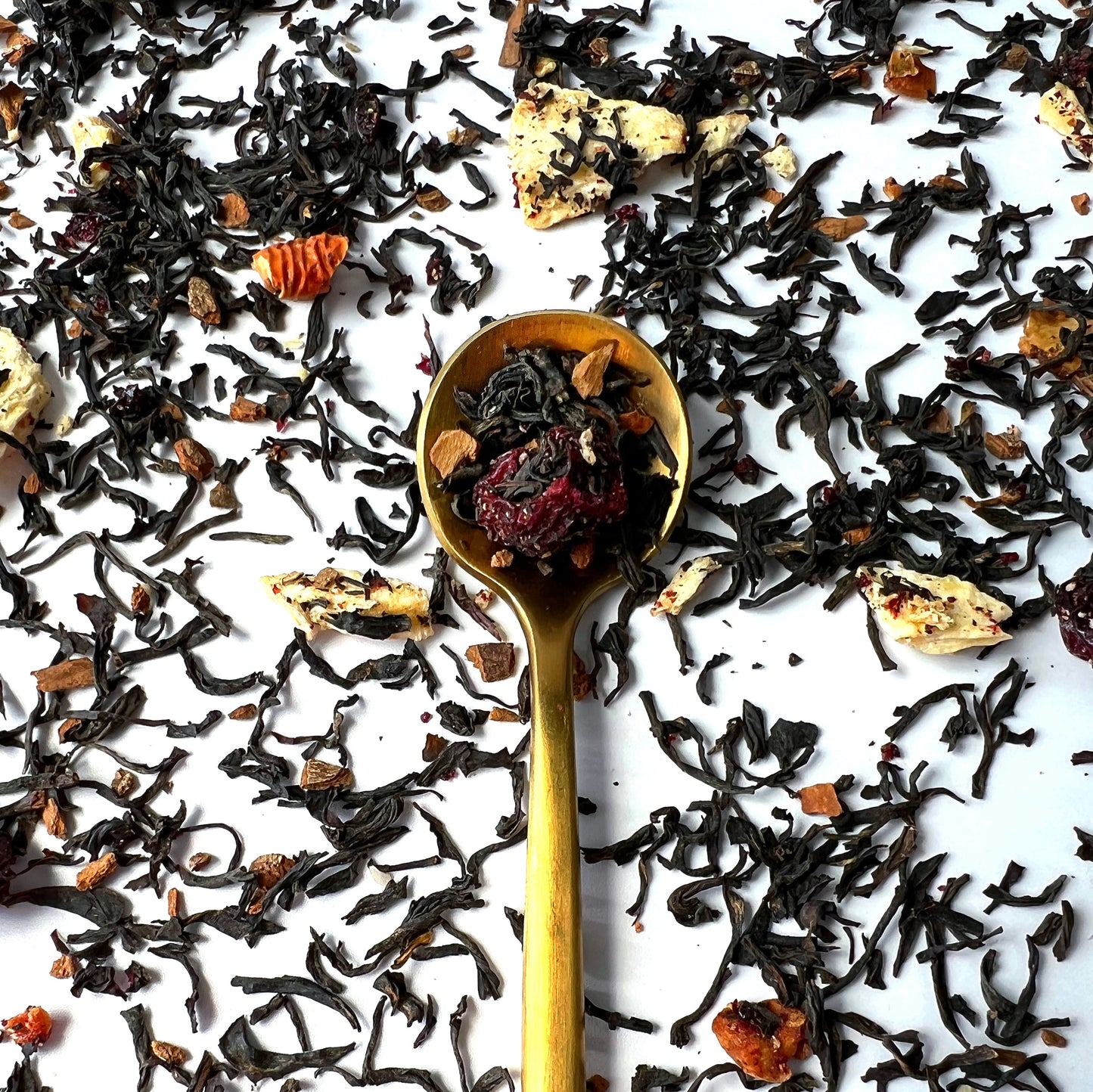 What is 'tea'?
from evergreen to the most drank beverage in the world
There are many types of tea produced and they are all made from the leaves of a very beautiful, versatile evergreen plant called the camellia sinensis. These are often called "True Teas." Green teas are unoxidized, retaining nutrients and freshness. Black teas are fully oxidized producing more malty and full bodied flavors. White teas, the least processed tea, is slightly oxidized and retain "pekoe" or white fuzz from early picking. Though different, each type of tea has its unique flavor and benefit. See below!
Benefits of Black Tea

"Unlike other teas, black tea leaves undergo an extensive oxidation process, exposing the cells inside the leaves to oxygen. Experts believe this oxidation may give black tea some different benefits than green tea (which receives no oxidation). Both oolong and white teas undergo partial oxidation."

Black tea contains one group of polyphenols, called theaflavins, that no other type of tea has. Theaflavins develop during oxidation and account for 3% to 6% of the polyphenols in black tea."

Promotes heart health
Reduces the risk of stroke
Improves focus
Lowers blood sugar
Decreases risk of some cancers

Source: UCLA Health: 6 health benefits of drinking black tea
Benefits of Green Tea

"Green tea is loaded with antioxidants. Among its benefits, it may help support brain function and fat loss, help reduce the chance of developing heart disease, and offer some protection against cancer."

Contains healthy bioactive compounds
May improve brain function
Increases fat burning
High in antioxidants that may lower cancer risks
May protect brain from aging
Reduces bad breath
May prevent type 2 diabetes
May help with cardiovascular disease
May help with weight loss
May help you live longer
Benefits of White Tea

"White tea is made from the Camellia sinensis plant.

Its leaves and buds are picked just before they are fully open, when they're covered in fine white hairs. This is where white tea gets its name.

Green tea and black tea are also made from the Camellia sinensis plant. However, different processing methods give them their unique flavors and aromas.

White tea is the least processed of the three teas. Because of this, it retains a high amount of antioxidants."

Rich in antioxidants
May reduce risk for heart disease
May help with weight loss
Protects teeth from bacteria
Has cancer fighting compounds
May lower risk for insulin resistance
Compounds may protect you against osteoporosis
May help with skin aging
May help protect you against parkinson's or alzheimer's
Other Tea types + benefits

Purple Tea

Rich in antioxidants
Cancer fighting properties
Anti-inflammatory
Anti-viral
Reduces cholesterol
Improves immune health
Improves cognition

Source: Purple Tea Benefits

Yellow Tea

Anti-inflammatory
Loaded with antioxidants
Boost immune system
Helps with digestions
Improves hearth health

Source: Yellow Tea

Oolong

Lowered risk for diabetes
Improved heart health
Improved cognition
Mineral rich

Source: Health Benefits of Oolong

Pu'erh

Boosts liver health
Helps with weight loss
Inhibits cancer growth
Improves cholesterol

Source: Pu-erh Tea Benefits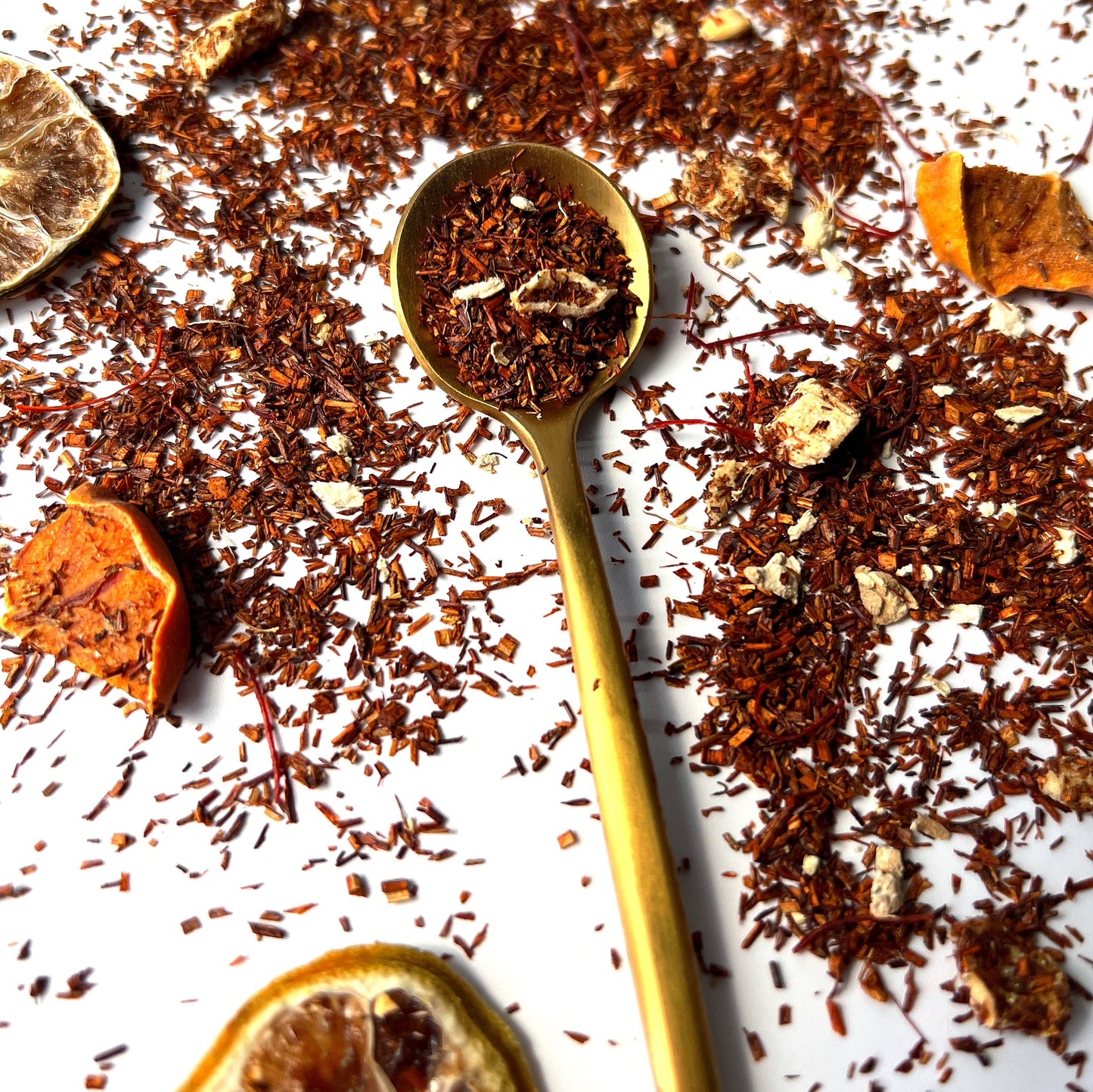 What is a tisane?
The healing benefits of "herbal teas" or tisanes
What is a tisane?
Tisanes, also known as "herbal teas" are herbal blends + infusions of aromatic herbs, plants and plant parts like stems, roots, bark, flowers, seeds, fruit, and leaves. Tisanes are known for their healing properties + indigenous medicines.
Tisanes are technically not "teas" at all as they are not made from the camellia sinensis plant (tea plant).
Herbal Benefits + remedies
Popular Herbs + Plants used in tisanes

Roots

Licorice
Burdock
Dandelion
Chicory (coffee substitute)
Ginger
Turmeric
Marshmallow
Milk Thistle

Barks

Cinnamon
Wild cherry
Willow bark
Slippery elm

Flowers

Chamomile
Lavender
Hibiscus
Rose
Red clover blossoms
Calendula
Lime flower
Linden
Chrysanthemum
Elderflower

Leaves

Lemongrass
Lemon balm
Sage
Marjoram
Mint
Rooibos
Mulberry leaf
Blackberry leaf
Tulsi
Basil
Rosemary
Tarragon
Yerba mate (High in caffeine)

Fruits + Seeds

Elderberries
Rose hips
Citrus peels (orange, lemon)
Fennel
Cardamom
Star Anise
Various dried fruits
Benefits of Rooibos + Honeybush

Rooibos

"Rooibos tea is also known as red tea or red bush tea. It is made using leaves from a shrub called Aspalathus linearis, usually grown on the western coast of South Africa.

Rooibos is a herbal tea and is not related to black or green tea."

Caffeine free + low in tannins
Packed with antioxidants
May boost heart health
May reduce cancer risks
May help folx with diabetes

Source: 5 Health Benefits of Rooibos Tea (Plus Side Effects)

Honeybush

"Honeybush, or Cyclopia spp., is a shrub that grows in the Eastern and Western Cape regions of South Africa.

It's closely related to rooibos. It's also caffeine-free, nutritious, and contains very small amounts of a variety of minerals, as well as beneficial plant compounds that have antioxidant activity.

You may enjoy a warm cup of this tea as part of your nighttime routine, or pour it into an ice-filled glass to make iced tea."

Rich an antioxidants
May help with diabetes
May improve bone health
May have cancer fighting properties
Boosts skin health
Herbs for Anxiety + Depression

Lavender
Valerian root
Kava
Passionflower
Turmeric
Chamomile
Ashwagandha
St. John's wort
lemon balm
Saffron
Turmeric
Basil
Milky oats
Calming Herbs + Spices

These herbs, spices and roots are calming and will help with sleep.

Mint
Tulsi
Lemon balm
Lemon verbena
Basil
Citrus peels
Lavender
Chamomile
Chicory root
Rooibos
Herbs + Roots for Joint Health

Hibiscus
Elderflower
Elderberry
Chicory root
Dandelion roots
Burdock root
Fennel
Cardamom
Willow Bark
Wild cherry bark
Basil Rose hips
Linden flower
Anti-inflammatory Herbs + Spices

Ashwagandha
Calendula
Chamomile
Cilantro
Echinacea
Fenugreek
Tulsi (holy basil)
Lemon balm
Licorice root
Sage
Rosemary
Spearmint
St. John's Wort
Detoxing Herbs + Spices

Licorice root
Ginger
Turmeric
Cardamom
Elderflower
Tulsi
Chicory
Dandelion Root
Burdock Root
Red clover
Red raspberry leaf
Herbs + spices for Immune Health

Elderberry
Rose hips
Sage
Mint
Licorice root
Lemon Balm
Lemon verbena
Rooibos
Tulsi
Cinnamon
Chamomile
Elderflower
Lavender
Hibiscus
Cardamom
Fennel Seed
Citrus fruits + peels
Linden flower
Ginger
Turmeric
Dandelion root
Herbs + Spices for Digestion

Ginger
Mint
Lemon balm
Chamomile
Rooibos
Lemon verbena
Hibiscus
Lavender
Rose hips
Cardamom
Fennel Seed
Licorice root
Dandelion root
Chicory root
Burdock root
Turmeric
Other Needs, Remedies + Uses

Eye Health

Elderberry
Blueberry
Fennel
Gingko
Turmeric
Carrot

Heart Health

Elderberry
Blueberry
Red clover
Hibiscus
Hawthorn
Fennel
Cinnamon
Ginger
Turmeric

Skin + Hair

Citrus peel
Blueberry
Willow bark
Chamomile
Mint
Lavender
Rosemary

Memory

Tulsi
Yerba Mate
Ginko Biloba